Doing HiWi at Universities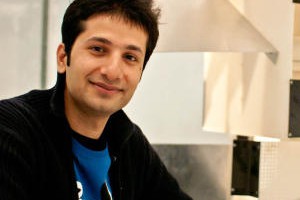 Name: Saquib Siddiqui
City: Magdeburg, studies Electrical Engineering and Information Technology
Age: 23
Home country: India
Job: For seven month I've been working as a so called "HiWi" which translates literally to "Help Scientist" in the lab for electro-magnetic  compatibility and measurement.
Salary: As a HiWi I earn 10 Euro per hour. As I'm allowed to work on my master thesis here in the lab, too, it pays off twice as much.
Working hours: I work about ten hours per week and can decide by myself when I'd like to work.
Tasks: Here we measure the massive electromagnetic coupling that occurs for instance, when you get a SMS when the TV is switched on. Everybody knows that beeping sound. These are the rays that we are most concerned about in the lab.
We are measuring the electromagnetic compatibility. Because some measurements take quite some time and must be monitored on the computer while only small things are changed, this is the perfect job for student assistants like me. In the meantime the "real" scientists can continue their research.
Find spot: A friend of mine told me about his job in the lab, so I went straight to the responsible scientist and asked for a job, too. After the professor in charge said ok, I started working right away.
Requirements: You must be really interested in this topic and if possible major in an electrical engineering related subject. Also, you should know how to work with a computer program called MATLAPS. And programming skills are important.
Reasons: At first I picked this job for money reasons. But I noticed pretty quickly, that my colleague is a genius and that I can learn a lot from him. He shows me how I can use the theoretical knowledge I've gained at university practically. Everything I'm learning here works in the whole wide world and increases my chances on finding a great job in the future.
NOTE: if you would like to share an article please send it to : admin[at]germanystudy.net In the format above and we will share it with other students. If you wish to write some other article too , you are most welcome.
Source:http://www.study-in.de/en/life/job-money/studentswork/–19798/