Heidelberg Castle Illumination – Heidelberg – Germany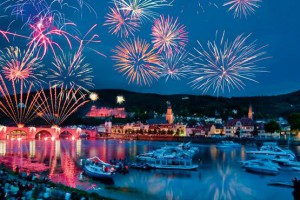 June 6, 2015 – July 11, 2015 – September 5, 2015 10.15 p.m.
June 4, 2016 – July 9, 2016 – September 6, 2016 10.15 p.m.
Heidelberger Schlossbeleuchtung from Heidelberg Event GmbH on Vimeo.
Legendary, spectacular and enthralling, this is a happening that always attracts an enthusiastic audience of many thousands – few other cities offer such enchanting nocturnal entertainment every June, July and September. The show begins when Heidelberg Castle is slowly bathed in red light by Bengal fire. It is as if – as so often during its long and troubled history – it were bursting into flame. History comes to life as the illumination recalls the years 1689 and 1693, when the troops of Louis XIV, the French 'Sun King,' put the city to the torch and left the castle as a ruin that is famous throughout the world today.
After some minutes, the red of the castle gradually fades, and the second part of the show begins: a spectacular firework over the River Neckar. This recalls an incident that occurred long before the castle was reduced to a ruin: when the Elector-Palatine, Friedrich V, first brought his newlywed bride, Elizabeth Stuart (daughter of James I of England), back to Heidelberg in 1613, he arranged for her to be greeted with a sumptuous fireworks display. He thus established a tradition that has continued right up to the present day. In 2013 the event celebrated its 400th anniversary.