List of Documents required sequence in German Embassy(Islamabad)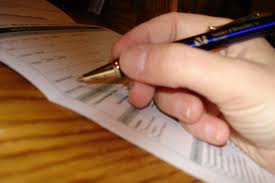 DONOT PAY THE PHOTOCOPIER MONEY FOR ARRANGING THE DOCUMENTS , DO IT YOURSELF WILL TAKE FEW MINUTES
For Student Visa
Three complete sets of documents are required in the following format / seqence. i.e. Please attach all original academic certificates, experience certificates, admission letter, bank documents, 1 resume with one visa application form, make two complete copies of first original set (A4 size format).
Sequence are as follows:
1. Visa Application Form
2. A valid admission (acceptance) letter from German University
3. Proof of Bank draft / Proof of Scholarship (if applicable)
4. Curriculum vitae (resume)
5. Proof of academic degrees (certificates + detailed mark sheets)
a. Secondary Certificate
b. Higher Secondary Certificate
c. O-Levels
d. A-Levels (GCE)
e. Bachelors Degree
f. Masters Degree
g. M-Phil Degree
h. PhD (if applicable)
6. Proof of any work experience or any research.
7. Proof of sufficient knowledge of language (IELTS, TOEFL)
8. If the medium of instruction is in German, Proof of sufficient German language
9. Copy of Passport / Pakistani Identity (origin) Card
10. Proofs of sufficient means (if applicable)
11. List of all relatives abroad / List of Children
12. Security Quesionaire
13. Declaration Form
14. Supportive documents (if any)
15. Complete Email copy of appointment
16. Copy of AMEX Reciept
 17. NOW THEY ALSO SOMETIME ASK FOR A MOTIVATION LETTER SO IT WILL BE HANDY IF YOU HAVE ONE FROM HOME.
NOTE: ONE ORIGINAL SET OF DOCUMENTS WITH TWO EXCLUSIVE COPIES IN THE VERY SAME ARRANGEMENT ARE REQUIRED.