Pakistan to build world's Largest Solar part of 1000 MW generation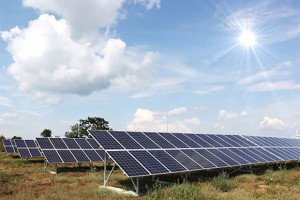 Pakistan saw the inauguration of its first large-scale Solar Power Park in Bahawalpur around a month ago.
As per news, this solar power park will start generating 100 Megawatts of electricity in December this year while the output of the solar power plant would reach 1,000 megawatts by 2016.
Quaid-e-Azam Solar Park project is a joint venture of the government of Punjab, Bank of Punjab and TBEA Ltd. of China.
It is Pakistan's first large scale solar power project and one of the largest in the world.
During the first phase — that is destined to complete in December this year — the plant will have 400,000 solar panels and will be built for an estimated cost of 131 Million Dollars with a power generation ability of 100 MW electricity.
Once completed, the project will generate around 2.5 times the power that the massive 392 MW Ivanpah solar-thermal plant in California does.
Work on the provision of infrastructure for Qaid-e-Azam Solar Park has been carried out speedily.
Here are some key highlights of Qaid-e-Azam Solar Park:
Overall capacity: 1,000 Mega Watts
Phase 1 Capacity: 100 MW
Completion of Phase 1: December 2014
Phase II Capacity: 300 MW
Phase III Capacity: 600 MW
Final Capacity: 1,000 MW
Completion of final phase: Dec 2016
Dedicated Area: 6500 Acres (Phase 1 Area: 500 Acres)
Boundary Wall: 9 KM
Annual solar Energy after final phase: 2,000 kWh/m2
Entire solar park, with 1000 MW production ability is estimated to cost around US 1.5 billion dollars.
Expected life of plant would be 25 years.
It won't be out of place to mention here that entire power production of Pakistan is around 23,000 MW, while we need double the energy of what we are currently producing.
It merits mentioning here that 10 power projects are also being set up in Thar to capitalize the solar heat for power generation.
Once completed, Pakistan will stand in the list of top 10 countries to produce more than 1,000 MW of solar energy.
source – propakistani