PhD student in Physics 2022 – Uppsala university Sweden

PhD student in Physics
Uppsala University is a comprehensive research-intensive university with a strong international standing. Our ultimate goal is to conduct education and research of the highest quality and relevance to make a long-term difference in society. Our most important assets are all the individuals whose curiosity and dedication make Uppsala University one of Sweden's most exciting workplaces. Uppsala University has over 54,000 students, more than 7,500 employees and a turnover of around SEK 8 billion.

The research conducted at the Department of Physics and Astronomy encompasses a wide range of physics topics, distributed over ten divisions. The department is located in the Ångström laboratory and employs nearly 400 people, 125 of whom are doctoral students. It offers a broad physics curriculum to undergraduate and graduate students, participation in nationally and internationally leading projects for researchers, and opportunities for partnership with industry and various outreach activities.

Uppsala University hereby declares a PhD student position, at the Department of Physics and Astronomy, to be open for application. The PhD-studies will be focusing on the investigation of transition metal hydrides by development and application of nuclear scattering methods with preliminary starting date in June 2022. The project will be jointly conducted in the Ion and Material Physics groups.

About the Ion and Material Physics groups
The Ion Physics group employs beams of swift ions to study their interaction with materials in solid and gaseous forms at an atomic and molecular level. The research deals, beside basic physics, with advanced materials research applications using different mass-spectrometric analytical techniques. These methods permit to determine concentrations and depth profiles of atoms and molecules in a material with very high accuracy for samples from biological, environmental and technological contexts. A 5MV tandem accelerator, a 350 kV high current ion implanter and a Low-Energy Ion Scattering System form the experimental platform.

The materials physics division focuses on non-equilibrium and finite size effects in magnetic materials, metal hydrides, liquids and polymers. The primary tools to this end involve the use, and development, of advanced neutron and x-ray scattering methods, available in the lab as well as at international large-scale facilities around the world, as well as ion beam, optical and transport measurements. This is often combined with theoretical modeling in collaboration with research colleagues from, e.g. material theory.

Duties
The PhD student will work on ex- and in-situ characterization of hydrogen in different single crystalline material systems based on transition metals. In the project, a methodology will be developed, to employ ion beams for measurements of depth profiles and lattice location of hydrogen. A modification of the experimental set-up is planned in this context. The results obtained from IBA will be complemented by experiments using X-ray and neutron scattering. A comparison with computer simulations and potentially theoretical investigations is planned. The overall goal is to rigorously combine different real and reciprocal space methods to extract the exact composition and structure of thin film metal hydrides and provide a better understanding of the fundamental thermodynamics of hydrogen in low-dimensional systems.

Qualifications requested and eligibility:
The successful candidate should have a master of science in engineering physics / physics or equivalent. Experiences in interdisciplinary materials science and modelling will be considered advantageous. The candidate should also have good communication skills and excellent study merits, and good skills in oral and written English.

Appointment as a graduate student requires that the holder is admitted or will be admitted to PhD studies, where the applicant's ability to successfully complete the doctoral studies will be decisive. The PhD position is for four years, extendable to a maximum of five years including departmental duties at a level of at most 20% (typically teaching). Information about doctoral education, eligibility requirements and admission rules can be found on the web site of the Faculty of Technology http://www.teknat.uu.se/utbildning/forskarniva/.

Uppsala University has local guidelines for salary placement.

Rules governing PhD students are set out in the Higher Education Ordinance chapter 5, §§ 1-7 and in Uppsala University's rules and guidelines.

About the employment
The employment is a temporary position according to the Higher Education Ordinance chapter 5 § 7. Scope of employment 100 %. Starting date 1 June, or as agreed. Placement: Uppsala.

Applications should include a brief description of research interest and past experience, a CV, copies of exams, degrees and grades, a copy of your Master thesis (or a draft thereof) and other relevant documents. The candidates are encouraged to provide letter(s) of recommendation and contact information to reference persons.

Uppsala University aims for gender balance and diversity in all activities in order to achieve a higher quality at all levels of the organization.

In case of different interpretations of the English and Swedish versions of this announcement, the Swedish version takes precedence.

Further Information:
Daniel Primetzhofer daniel.primetzhofer@physics.uu.se +46 18-417 3040
Max Wolff max.wolff@physics.uu.se +46 18-471 3590
Please submit your application by 31 March 2022, UFV-PA 2022/488.
Are you considering moving to Sweden to work at Uppsala University? Find out more about what it´s like to work and live in Sweden.
Please do not send offers of recruitment or advertising services.
Submit your application through Uppsala University's recruitment system.
Placement
: Department of Physics and Astronomy
Type of employment
: Full time , Temporary position longer than 6 months
Pay
: Fixed salary
Number of positions:
 1
Working hours:
 100 %
Town:
 Uppsala
County:
 Uppsala län
Country:
 Sweden
Union representative:
 ST/TCO 
tco@fackorg.uu.se
Seko Universitetsklubben 
seko@uadm.uu.se
Saco-rådet 
saco@uadm.uu.se
Number of reference:
 UFV-PA 2022/488
Last application date:
 2022-03-31


HR EXCELLENCE IN RESEARCH
The HR Excellence in Research logo is a seal of quality that lets you know Uppsala University is committed to implementing the European Charter for Researchers and the Code of Conduct for the Recruitment of Researchers.
More about Uppsala University's work with the EU Charter and Cod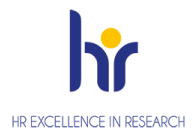 EMPLOYEE BENEFITS
As an employee at Uppsala University, you receive a number of great benefits. Here we have listed the most important ones.
Benefits for Uppsala University employees