Working After Your Studies – Career Opportunities for international students in Germany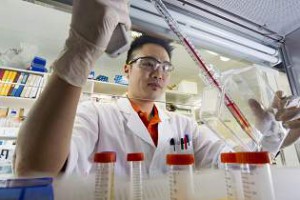 1. Finding a job after graduation
2. Finding a student job
3. Job opportunities in different sectors
4. Legal regulations, terms and conditions

1. Finding a job after graduation
Is it easier to find a job with a master's degree or with a doctoral degree?
This depends on the job you are looking for. If you want to work in research, for example in natural sciences, a doctoral degree is recommended. But for both holders of master's and doctoral degrees there are many job opportunities.
Regarding jobs and studies in Germany, is it mandatory to know German?
In general, good German language skills are very useful. In businesses with strong international relations, in the academic field, and the IT sector, you can often survive with basic German and very good English language skills. When it comes to studying in Germany there is a great range of English taught bachelor's and master's programmes.
What do I need to keep in mind as an international student when preparing my CV / application letter or when facing an interview?
In general, your CV should be 1-2 pages long and contain the most important information about your study and work career. It is also important that you have a certificate for every reference you name in your CV. Career Services at German universities offer to check your application.
Is there a special platform where international graduates can look for job vacancies in Germany?
For academic jobs the weekly periodical "Zeit" can be recommended: http://jobs.zeit.de/ We can also recommend the following website for searching for jobs in particular sectors:www.arbeitsagentur.de > Bürgerinnen und Bürger > Arbeit und Beruf > Arbeits- und Jobsuche. On the right hand side there is list of links for many job databases in particular sectors ("Berufs- und branchenspezifische Stellenbörsen"). Also you can search at www.meinestadt.de if you are looking for jobs in a particular city or region. Another option would be to contact the incoming team of the International Placement Services ZAV ("Zentrale Auslands- und Fachvermittlung") of the German Federal Employment Agency at zav-auslandsvermittlung@arbeitsagentur.de.
How do career centers help non-EU students with getting a job in Germany?
Career services offer consulting to EU-students as well as to non-EU-students. Normally they offer personal or group consulting and beyond that they offer special preparation for assessment centers. They provide a wide range of information and welcome everyone who is looking for advice.
2. Finding a student job
Is it that difficult to get a student job in Germany?
It depends on the city or region, but a lot of universities have a career center and a job center for students where you can get information about job offers at the university.
I applied for master program in Germany, but I will not be able to find a scholarship for this year. Can I get a visa if I find a job in Germany that provides me with enough money? And is there a minimum salary that I need to get for the visa? I am a non-EU citizen.
You must provide a "Finanzierungsnachweis" or "proof of financial resources". At present, foreign students must prove that they have about 8,000 euros per year at their disposal. A student job may supplement your budget, but it almost certainly won't be able to cover all your living expenses. International students are only allowed to work in Germany under certain conditions (see question "As a student, can I work as much as I would like to? Are there special regulations?").
3. Job opportunities in different sectors
I want to ask about the job opportunities for mechanical engineers in the sector of power engineering, energy systems and renewable energies in Germany. What are the skills a person must develop to increase his job opportunities?
Almost 20% of all engineers in Germany are working in mechanical and automotive engineering. The demand particularly rose in 2011. Engineers find jobs in almost all economic sectors in Germany. In recent years they have been sought above all in the automotive industry, for the manufacture of IT equipment and electronic and optical products, by management consultancies, in the wholesale trade and for the manufacture of metal products. Especially in mechanical and plant engineering firms and in the electrical industry recent graduates are welcomed with open arms. For jobs in the field of renewable energies, applicants should particularly be interested in questions of energy and environment. They should have a good understanding of technical contexts and principles of cause and effect.
I wish to know more about the opportunities in the area of social-economics. Are there any job opportunities in the public sector for a non-German student?
First of all you need to ask yourself in which particular field of socio-economics you would like to work. There is the public sector, organizations attached to different churches and, of course, private economy and private trusts. For example in the field of "Diversity", you can find many job offers.
4. Legal regulations, terms and conditions
Is there a minimum salary requirement for a work permit?
There are no restrictions for people from EU countries. For people from third countries with a foreign university degree there will be a minimum salary of 45,000 euros required (at the moment 65,000 euros).
If I were hired by a company in Germany with a salary less than 45,000 euros, would I not be able to apply for a work visa?
A minimum salary of 45,000 euros is required. For natural scientists, engineers, medical doctors and IT specialists, a lower salary limit of 33,000 euros per year will be permitted.
Do authorities check if my job corresponds to the subject I studied at university?
According to § 16 of the German residence act you can apply for a one-year residence permit for the purpose of looking for a job. Your position has to be appropriate for a university graduate, you may not be overqualified for the position, but it doesn't have to correspond to the subject you studied.
Do special conditions apply if I apply for a one-year residence permit for the purpose of looking for a job after graduating from a German university?
After graduating from a German university you have got one year to look for a job that is appropriate for a university graduate. No special conditions apply. But you may not start to study again (for example in a master's programme). In that case, the regulation stops to apply.
If my residence is not in Germany, may I still apply for a job in Germany? Can I arrange the whole process of looking for a job in Germany from my home country?
If you are still in your home country, you need to find a job in Germany on an academic level with a salary of min. 45,000 euros. Again, this only applies to people from outside of the EU. Otherwise, as said before, you need to prove that you can cover your costs of living.
Am I allowed to work part-time while I am looking for a job?
In the year after you graduated from a German university you are only allowed to work part-time while looking for a permanent position. The 90-days rule applies which means that you are only allowed to work 90 full days or 180 half days in a year.
As a student, can I work as much as I would like to? Are there special regulations?
During your studies the 90-days rule applies, that means you are allowed to work 120 full days or 240 part-time days. This only applies to students from outside the EU. If you have a student job on campus or work as a research assistant, it's usually no problem to exceed the 90-days limit. Mandatory internships are not subtracted from your 90-day employment credit.
http

:

//www.study-in.de/en/community/chat/--20652#1