22 Hours Battery Life – Toshiba announce razer-thin Ultra book Kira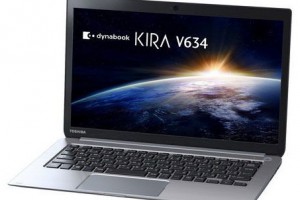 Typically, when you think of laptops with extra-long battery life, its the MacBooks which come to mind first and not their more-common Windows rivals but that is about to change now with the Toshiba Kirabook.
The ultrabook, with a little help from Intel Haswell processors, has a 22 hour long battery life, that too in a razer-thin design.
Upfront, you get a 13.3 inch non-touch enabled display with 1366 x 768 pixel resolution, one of the factors in improving battery life but you may also find a 2560 x 1440 res. model.
Under the hood, you get a 4th-generation Intel Core i5 Haswell processor, 8 GB worth storage and a 128 GB SSD. It also comes with Windows 8.1 pre-installed.
With a battery life like this, you might've expected the Kirabook to be an ultrabook just by name but that is not the case. The laptop weighs just 1.12kg.
Prices start at $1446 for the V634 model with 22 hour battery life, while the V834 which will come with a touchscreen display but much less attractive 14 hour battery life can be bought for $1530.
This is a lot of money but then again, Windows 8 laptop with a 10 hour battery life is rare nowadays, let alone be a 22 hour one.