Doctoral researcher positions (f/m/d) in Erlangen, Duisburg – Design of Particulate Products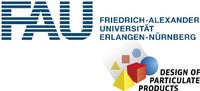 Doctoral researcher positions (f/m/d)
in Erlangen, Duisburg
Successful candidates will be renumerated according to German civil service employee payscale TV-L E13 (full time) and are expected to start as soon as possible. 
CRC 1411 is a newly established initiative funded by the German Research Foundation (DFG). It considers, through 20 participating projects, the predictive model based design and practical process realisation of particulate products. These range from single nanoparticles with controlled shape and composition, through hierarchically organised assemblies of particles, up to particle packings as stationary phases for chromatographic separation. The CRC will target scientific breakthroughs in the product engineering of nanoparticles with optimised optical properties produced by continuous synthesis directly coupled to property-specific classification of nanoparticles by chromatography. The research will be carried out in Erlangen at selected institutes of the Departments of Chemical and Biological Engineering, Materials Science and Engineering, Mathematics, and Physics. One project will be located at the NanoEnergieTechnikZentrum of the University of Duisburg-Essen. Doctoral dissertations will be evaluated according to the regulations of the appropriate faculty. More details of the participating projects can be found  here.
Doctoral researchers will be expected to actively participate in the integrated Research Training Group of the CRC (iRTG-ParSciTech). This provides a framework for the supervision of individual projects, usually by two principal investigators of the CRC. It also nurtures a collaborative network between all CRC projects through regular meetings and retreats. Finally, it prescribes a qualification programme which aims to promote members' scientific development, through participation in advanced lectures, conferences, stays in research labs abroad, and publishing but also in transferable skills.
Your qualifications:
You hold or expect to soon obtain a very good university degree (Master's or equivalent) in Chemical Engineering, Chemistry, Materials Science, Applied Mathematics, Physics or a closely related field.
You preferably have research or methodological experience relating to at least one CRC project.
You have a demonstrable ability to work both with a high level of independence and diligence but also you can present your ideas and results to an interdisciplinary team.
You are proficient in the English language; knowledge of the German language is welcome though not essential.
Your online application should include:
Short (max. 4000 characters) letter of motivation including justification of your suitability for the CRC 1411 project(s) (maximum 3) which interest you the most
Short (max. 2 page) CV listing your educational and vocational history, key skills
Copy of your Master degree certificate (if not yet available, please send Bachelor degree instead) along with full academic transcripts
A brief summary of your Master's thesis (max. 1 page)
Two academic letters of recommendation (these can also be sent direct to us by your referees)
English language certificate (where applicable)
Publication list (where applicable)
The FAU is a member of "The Family in Higher Education Institutions" best practice club and aims to increase the number of women in scientific positions. Female candidates are therefore particularly encouraged to apply. In case of equal qualifications, candidates with disabilities will take precedence.
Please submit your application material (in English or German) by 31 January 2020 at the following online portal:  www.crc1411.research.fau.eu/jobs/application/