International Hiking Trip: Frankenstein & More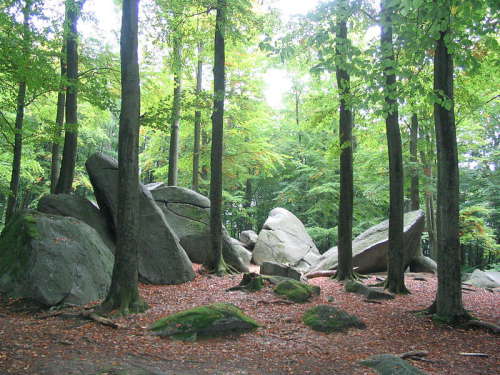 International Hiking Trip: Frankenstein & More
This one day hikingtrip goes out to the lovely nature of the Odenwald, where we find  a landscape of mellow mountain peaks and smooth valleys covered in mixed woodland including typical german beech groves.
Starting from Darmstadt-City first we move to the small town Jugenheim, 15 km south of Darmstadt by tram (which you can use without any costs showing the TU-Identity-Card). Here we start walking uphill into the scenary of the Odenwald.
Our roundabout 6 hours lasting way back to Darmstadt is marked by historical buildings all embedded in powerful lush green: after a look on "Schloss Heiligenberg" we will pass the ruine of "Tannenburg" and visit the well-restaurated ruin of "Burg Frankenstein".  While  getting great panorama views out to the rine-river-plain we reach our last station "Ludwigshöhe" before walking back to the City of Darmstadt.
---
Itinerary: 
09.00 am – meetingpoint at "Luisenplatz" in Darmstadt (center): tram-station of line 8 !
09.15 am – ride by tram (Line 8) to Jugenheim; arrivel 09.47 am
10.00 am – start walking: Jugenheim – Schloss Heiligenberg – Tannenburg – Burg Frankenstein – Ludwigshöhe – Darmstadt
06.00 pm – back in Darmstadt (center)
---
Date: Sunday 7th of June 2015 – CAUTION: Date differs from ITT-Flyer!!!
Adressees:
This offer goes out to every International Student or Employee.
Requirements:
No particular skills needed. – Except (of course) the ability to walk  for 5-6 hours in quite convenient tempo (basic sportiv condition).
What to bring:
(1) Be prepared to handle the weathersituation we will find the day of the event, which could vary from windy and rainy conditions (rain jacket, maybe umbrella etc.) to sunny and hot (sunprotection, sun-shielding hat / cap etc.). – So look out the weatherforecast!
(2) Choose footwear (boots and socks), which allow you to walk for hours without  trouble.
(3) Take a 25-30 litres day-pack to carry all your individual needs (personal medical kit, toilet paper, insect rellent, camera etc.), including lunch and refreshments  (at least 1.5 litres).
| Details | Tag | Zeit | Ort | Zeitraum | Leitung | Preis | Buchung |
| --- | --- | --- | --- | --- | --- | --- | --- |
http://online-anmeldung.usz.tu-darmstadt.de/sportarten/aktueller_zeitraum/_International_Hiking_Trip__Frankenstein__und__More.html