OnePLUS ONE – Mobile FLAGSHIPS Killer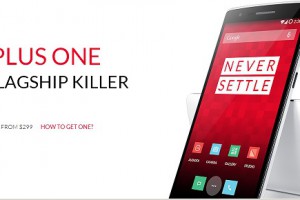 Read Time:
5 Minute, 46 Second
[Spider_Single_Video track="22″ theme_id="3″ priority="0″]
The OnePlus One is the first in a series of mobile devices to be launched by Chinese smartphone maker OnePlus. Founded in December 2013 by Pete Lau, the company looks to bring the best available technologies to consumers at an affordable price. The One, which the nascent company has proclaimed is a "flagship killer" due to its premium build and great-looking design, lives up to OnePlus's philosophy.
(Source: OnePlus)
OnePlus One Price, Features, and Specifications
In a world where high-end smartphones are pricey and low-end devices fail to cater to power users' ever-increasing consumption of digital media, the OnePlus One stands out from the crowd. Its specifications are at par with the Samsung (SSNLF) Galaxy S5 and the HTC One M8, while it is priced at just $299 for the 16GB model, and $349 for the 64GB model.
Inside the 8.9mm thick device lives a powerful Snapdragon 801 processor by Qualcomm (QCOM), with a 2.5GHz Quad-Core CPU and integrated 4G LTE connectivity. The OnePlus One also packs 3GB of DDR3 RAM, which is more than enough to ensure a fluid multitasking experience, even for power users. These specs put the OnePlus One on the same pedestal as the S5, and the former's lower price is a factor tilting the scale in its favor over the Samsung device.
(Source: OnePlus)
There are many smartphones in the market that fail to utilize the full potential of their processors as a result of heavily customized software, such as Samsung's TouchWiz, which offers additional features but usually introduces lag. Samsung's flagship devices have been criticized for their 'bulky' software, pre-loaded apps, and unattractive user interface designs. The OnePlus One looks to outdo competitors in this department; it is the first smartphone in the market to come pre-installed with the community-driven CyanogenMod 11s OS, built on Android 4.4 (KitKat).
CyanogenMod is a customized mobile operating system based on the Android Open Source Project. It aims to deliver a better Android experience to users, and allows them to customize several aspects of Google's (GOOG) Android OS, such as the user interface. In the past, installing and setting up CyanogenMod on an Android device was a painstaking experience that required a certain level of technical knowledge, and voided the phone's warranty as well. By providing users with CyanogenMod pre-installed, the OnePlus One has made it possible for more users to enjoy customized experience without fretting over it.
(Source: OnePlus)
The camera app is also customized by CyanogenMod and utilizes a 6-lense, 13-megapixel primary camera with Sony's (SNE) Exmor image sensors, along with an additional 5-megapixel front-facing camera for all your 'selfie' needs. The camera onboard the OnePlus One is somewhat disappointing, as is the case in most devices in the same price bracket. Initial reviewers pointed out the camera's inferiority compared to the S5 or Apple's (AAPL) iPhone 5s. However, the relatively low price of the One makes this forgivable.
The 5.5 inch 1080p screen is on the bigger end of market offerings, and is comparable to the Galaxy Note 3 and LG G Pro. Needless to say, the One makes for a great gaming and multimedia experience. But users who do not have an appetite for large screens will definitely see this as a negative factor. As with most high-end smartphones, the One's screen is protected by Gorilla Glass 3.
(Source: OnePlus)
OnePlus One Marketing and Sales Strategy
While the device has high-end specs, and a premium look and feel, the One's future remains uncertain. The company launched the phone with a marketing strategy aimed at disrupting the industry by breaking through media clutter. In April, consumers interested in the product were challenged to smash their current phones on video and in return get a chance to buy the OnePlus One for $1. There were some 140,000 applicants for the scheme. The success or failure of the strategy is yet to be seen, as the company begins shipping off its first batch to consumers by the end of May. The question that begs a response is whether these people will invite their friends to join the OnePlus One experience. Till July, the company aims to sell the smartphone on an invite-only basis, a very novel marketing strategy.
There is high demand from some of the more advanced Android users, while the average smartphone user remains oblivious to the phone's existence. With the invite-only approach to sales, the company cannot be expected to turn a profit anytime soon, which brings its longevity into question.
There have been reports which suggest that OnePlus is backed by OPPO Electronics Corp., a Chinese electronics maker of which Pete Lau was a former executive. If there is any truth to these rumors, OnePlus will not be just another small vendor trying to make inroads in an increasingly fragmented market. OnePlus has rejected these rumors outright, claiming that it is a startup company looking to make a mark in the global smartphone industry. Its unique marketing approach could also result in lower marketing costs per unit, and explain the company's ability to offer the device at such low prices.
The OnePlus One is no doubt a great product at a great price. How successful it will be in setting bolstering the brand and the company as a serious contender in the smartphone industry is something which will become clear with time. For now, the company is betting on word of mouth to market its device. The notion is that once someone uses this "super device," they would want to boast about it to their friends, setting off a chain reaction. The success of this strategy will be gauged in the months that follow.
Challengers to OnePlus
Moving forward, the main challengers to OnePlus's approach will be its Chinese competitors such as Huawei and Xiaomi, which are two of the biggest smartphone manufacturers in China. In the last few years, Chinese manufacturers have expanded their product range to introduce cheap Android-powered devices in developing markets, by compromising on specifications as well as the quality of components used. With time, these manufacturers have improved specs, the quality, and their devices' designs. Given their production and marketing capabilities, they may pose a threat to OnePlus, which looks to disrupt the global smartphone market through its online marketing strategy.
Conclusion
The success of the OnePlus One could easily incite Chinese competitors to target a wider audience and make full use of their production capabilities, marketing budgets, and distribution networks. Such a reaction would spell trouble for OnePlus, which is looking to generate high demand in the coming months and capture market share.
source:.bidnessetc