QS World Grad School Tour – Frankfurt , Saturday, 26th Oct 2013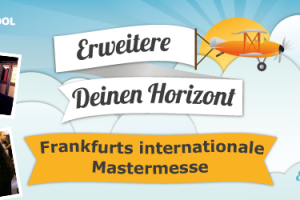 QS World Grad School Tour – Frankfurt
You are interested in a master's degree or a doctorate abroad? Then you now provides the master QS World Grad School Tour fair the opportunity to meet personally and universities around the world to apply for scholarships you. Register now for free and find your suitable program.
Why attend?
By the master in London to undertake a doctorate in Hong Kong – in direct conversation with the universities you can find out everything about admission requirements, course content, applying, financing and life on campus.
The selection of subjects on the show ranges from architecture and engineering to management and zoology. Thus, the fair prospects of all disciplines offers the ideal opportunity to be fully informed about further studies.
Your Benefits
Receive a consultation to study abroad and career advice
Apply yourself to exclusive scholarships worth 1.2 million USD – only for visitors
Free, 15min CV check of access.de
Free Study Führer QS Top Grad School Guide
Take part in the forum discussions and get tips for your job search and application study
Individual one meetings with selected universities
30 coupons for the online Career Personality Test Horizon by Orientum
We look forward to seeing you at the show!
12:00 – 18:00
TOPIC:
FREE 15MIN CV-CHECK, 12:00 – 18:00 HRS, BOOK YOUR SLOT AT ACCESS.DE/MESSE
13:15 – 14:00
TOPIC:
UNDERSTANDING THE APPLICATION PROCESS
Presenters:
University of St Andrews, Hong Kong Polytechnic University
15:45 – 16:30
TOPIC:
SCHOLARSHIP OPPORTUNITIES FOR GRADUATE PROGRAMS
Presenters:
Masdar Institute of Science and Technology
FAQ
Do I have to register in advance for the fair?
By prior registration you secure your place at the show. In addition, you get e-mail information in advance to the day program, the full list of participating universities as well as news about the show.
When does the show and when can I visit these?
's open exhibition lasts from 14:00 bis 17:00 clock clock. You can come to at any time. To make the most of the day, take part in the forum discussions and offered CV check that begin already from 13:00 clock.At the entrance you get a program and an overview of the participating schools and their requirements.
How do I prepare myself for the show?
Think about, for example, which subject you suchts and where you want to study before the exhibition, where your own priorities and interests lie.Through targeted questions about the study to the school and career options you can make the most of the talks and at the same time leave a positive impression.
Messe Frankfurt – Congress Center
Frankfurt    60327
Germany
Schools Attending Events in this Region:
Hawaii Pacific University
George Washington University
Boston University
Regis University College for Professional studies
Pepperdine University, School of Public Policy
Hult International Business School
Pace University, Lubin School of Business
University of Kent
University of Glasgow
Manchester Metropolitan University
Cardiff University
Imperial College London
London School of Economics LSE
Nottingham Trent University, Nottingham Business School
Queen Mary University of London
School of Oriental and African Studies, University of London
The University of Salford
University College London
University of St Andrews
University of Surrey
University of Roehampton
University of Sussex
Aberystwyth University
Swansea University
University of Warwick
Queen Margaret University College
St Mary's University College, London
Bournemouth University
Institute of Education, University of London
University of Essex
King's College London
Aston Business School
Durham University Business School
Imperial College Business School
Lancaster University Management School
Leeds University Business School
London Business School
Manchester Business School
Cass Business School, City of London
University of Edinburgh Business School
Cambridge University, Judge Business School
University of Strathclyde in Glasgow
Regent's University London
WMG University of Warwick
The University of Law
Study in Edinburgh
The York Management School, The University of York
Robert H. Lee Graduate School, Sauder School of Business
Concordia University
ESC Rennes, School of Business
HEC school of management – Paris
ESCP Europe
EDHEC Business School
EMLYON Business School
ESSEC Business School
IESEG – Lille
Association Gateway Pass-World
Universitat Autonoma de Barcelona
ESADE
IE Business School
University of Melbourne
The University of Queensland
Webster University – Vienna
WU Vienna, University of Economics and Business
KU Leuven
Free University of Brussels (VUB)
Antwerp Management School
Brussels School of International Studies, University of Kent
Flanders Knowledge Area
Xi'an Jiaotong Liverpool University
ESMT European School of Management and Technology GMBH
ALBA Graduate Business School
City University of Hong Kong
The Hong Kong University of Science and Technology
Hong Kong Polytechnic University – Faculty of Business
CEU Central European University Business School
University of Limerick, Ireland
Politecnico di Milano
Università Commerciale Luigi Bocconi
Catholic University of the Sacred Heart
University of Utrecht
RSM Erasmus University Rotterdam
Radboud University Nijmegen
Webster University – Leiden
NHH – The Norwegian School of Economics and Business Administration
BI Norwegian Business School
Católica Lisbon Business and Economics
National University of Singapore – Graduate School for Integrative Sciences and Engineering
University of Gothenburg
University of Geneva
Ecole Polytechnique Federale de Lausanne
University of St Gallen
Business School Lausanne – BSL
Webster University – Geneva
Lausanne Hotel School
University of Italian Switzerland
Brunel Business School
Masdar Institute of Science and Technology
University of Exeter
[box type="info" align="aligncenter" ]Saturday, 26th Oct 2013 12:30 – 17:00 Messe Frankfurt – Congress Center Harmonie Hall Frankfurt 60327 Germany[/box]
[highlight]http://www.topuniversities.com/events/qs-world-grad-school-tour/europe/frankfurt[/highlight]