79 Euro DB-Rewe Ticket – Useable before the end of august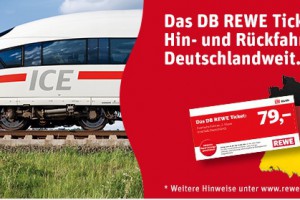 The whole of Germany, one price

Whether Stuttgart, Berlin and Kiel, from now on you can openly Germany. With the DB REWE ticket you travel across Germany whenever and wherever you want for only 79 €. So cheap and easy as you would expect from REWE.
Round-trip ticket (2nd class)
including two seat reservation vouchers
Time period to 31/08/2014 (except Fridays) *
Children under 15 years traveling free!
including 10 EUR rail card voucher (for rail card 25/BahnCard 50)
How it works:
Simply enter before boarding the starting station, the destination and the date (day and month) in the fields provided. Your ticket is valid for the date in the 2nd class to every 10 clock on the following day.
By the way: children / grandchildren under 15 years traveling with an Eltern-/Großelternteils or his life partner with for free, if the number of children registered on the ticket.
We encourage you to reserve your seat in advance.
Other important information for you:
Your ticket is valid in the German domestic trains of product classes ICE, IC / EC as well as in lead and lag in the features of the transport (RE, RB and S-Bahn) and in the local trains of non-federally owned railways (NE railways) and the IC buses, but not at sea and in the car train.
To use the reservation required, ICE Sprinter trains and the trains of the City Night Line (CNL) is an additional charge for the use of the IC buses a separate reservation is required.
Refunds and exchanges as well as commercial dissemination are excluded.
The cutting out of the booklet makes the ticket invalid.
Your passenger rights in rail transport for download . you have any questions? In our FAQ you find frequently asked questions and the answers.
For more information and the conditions of carriage of the DB is available at www.bahn.de/rewe .
We wish you a good trip.
* Promotion period: 23 to 28 June 2014 while stocks last, redeemable until August 31, 2014 (except Fridays). Not with rail card discount or other discounts can be combined. Exchange and refund of the DB REWE tickets are excluded. Incl. two seat reservation vouchers, redeemable until 31 August 2014 and 10 € voucher is redeemable when purchasing a track Card 25/50 of 01.07.2014 to 31.08.2014. Valid within Germany in ICE, IC / EC as well as in lead and lag in the features of the transport (RE, RB and S-Bahn) and the local trains of non-federally owned railways (NE railways) and the IC buses, but not at sea or in the car train. ICE Sprinter / CNL surcharge, IC Bus to separate reservation fee. Family Children under 15 years travel free when accompanied by an Eltern-/Großelternteils or his life partner, if their number is entered on the ticket. For further questions, please contact the toll-free service hotline train 0800 73 99 444 REWE is on these trips neither carrier nor organizer. Apply the conditions of carriage of the Deutsche Bahn DB for REWE ticket. For this product you will not get any payback points.

source: https://www.rewe.de/db_rewe_ticket.html