The Big Central-European ROAD TRIP!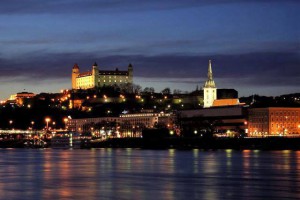 Let us invite you to a very special trip! 
8 days, 5 countries, 4 capitals, numerous other sights and towns + unforgettable programs

PRAGUE :: AUSCHWITZ :: CRACOW :: BUDAPEST :: BRATISLAVA :: VIENNA

NOW ONLY: 299 €/person !
BOAT PARTY :: PÁLINKA TASTING :: GOULASH DINNER :: PRIVATE TRAMWAY PARTY :: GUIDED SIGHTSEEINGS :: BEER-PONG :: VISIT TO A LEGENDARY THERMAL BATH OF BUDAPEST :: AUSCHWITZ CONCENTRATION CAMP :: PUB CRAWL
ITINERARY
Day 1 >>> PRAGUE
Departure from the departure place chosen by you!
Travelling by coach is FUN! We are getting known each others by welcome drinks and nice music that creates a nice atmoshepere. Arrival to Prague at the afternoon hours. Visiting a typical local beer house before going to a BOAT PARTY among the vibrant landscapes of Prague Old Town! The craziest party animals can continue their party in Karlovy Lazne, a 5 storey discoteque, said to be the largest club in Central-Europe, packed with international crowd every day of the week, every week of the year…
Sleeping in Prague.
Day 2 >>> PRAGUE, WROCLAW
Breakfast. Sightseeing in Prague old town and castle by professional local guide. Duration about 3-4 hours. Free afternoon program after the sightseeing. We leave for Wroclaw at around 15:00 to arrive there in the evening hours.
Nothing could be a better idea than dropping us deeply into the nightlife scene of this typical lively student city! You won't forget it. Night in Wroclaw.
Day 3 >>> WROCLAW, AUSCHWITZ, CRAKOW
Wroclaw is the History of Central-Europe itself in miniature. At various times it has been part of the Kingdom of Poland, Bohemia, Hungary (1469-1490), the Austrian Empire, Prussia, and Germany; it has been again part of Poland since 1945, as a result of border changes after World War II. Its population in 2011 was 631,235, making it the fourth largest city in Poland. The whole morning until noon is at your disposal to dicover the most famous and hidden gems of this legedary beautiful city.
At noon we continue our tour toward the most well-known memento of the dark side of human history, the Auschwitz and Birkenau concentration camp. The professional local guides will present us the scene of the systematic and cruel destructions of about 1 million jews, romas, handicapped people and other nationals.
Arrival to Krakow in the evening hours. After check in we're going to show you our favourite places and clubs in town. Night in Krakow.
Day 4 >>> CRACOW
What about a sightseeing tour? :) Cracow is one of the oldest university centers in the World with a rich history. Once the royal capital of Poland, with its almost intact medieval center and houses, with its castle "Wawel" and with its Jewish district "Kazimierz" that includes also the building of the factory of Schindler it can tell a lot about history! Our professional local guides take you through the city from the Main Square "Rynek" through the Wawel until the Jewish district, where as an option you can visit the Schindler factory and spend a nice lunch in one of the many bohemian pubs or restaurant for which this district is mostly famous! We know that you deserve some freedom as well, so we let you discover the town on your own in the rest of the day. Even if you have time to take a rest or not, our following big party deal is waiting for you! The Tramway party. Hmmm just try to imagine it. We don't tell you now anything more :) After this, of course we are going to visit one more club, because partying is never enough. Sleeping in Krakow.
Day 5 >>> BUDAPEST
Let's go, because Budapest is already waiting for us! We plan our arrival at around 17:00 to the Capital of Hungary, the most cosmopolitan city of Central-Europe, a real metropolis with so many cultures mixed in one place. The first night in Budapest is the best time for a pub crawl among the "ruin pubs" of Budapest. The ruin pubs are a real unique symbol of the city. These are secular old abandoned buildings that have been decorated, resctructured and in the same time left intact by the bohemian community to create a very relaxed and hippy atmosphere. Sleeping in Budapest.
Day 6 >>> BUDAPEST
This day is the most ideal for the discovery of Budapest. Our young and talented guides will not only bring a happy smile to your face but also show you the UNESCO World Hesritage Andrássy district, the Parliament and the Buda Castle. After sightseeing you'll have some free time to look around the city, to buy souvenirs or for shopping in one of the huge malls of Budapest. By the late afternoon we are going to have a typical Hungarian Goulash soup dinner and taste local fruit distilled spirit, the Pálinka. If the weather allows us we get back to the city by a panoramic boat cruise just to end our night in Morrison's club, the biggest club in the city well-known and visited by the international student community. Sleeping in Budapest.
Day 7 >>> BUDAPEST, BRATISLAVA
Where to have hangover? Hmm, a Hungarian would say: In the Széchenyi Bath! A secular old charming thermal spa with numerous pools filled with curative water is likely to bring you back among living beings. Just after departure we take a last panoramic picture of Budapest and we leave definitely for the Slovak capital, Bratislava!
Once a Hungarian Capital, and Austrian and a Czechoslovakian town now the capital city of Slovak Republic, with several historical names such as Pozony and Pressburg, Bratislava is another example of the colourful history in Central-Europe. A really charming and pictoresque mini-metropolis that is situated on the banks of the Danube between its two bigger sisters, Vienna and Budapest. You're completely free to discover and live this nice city on your own. Be prepared for our last and biggest liver felony, the Saturday night party! Sleeping in Bratislava.
Day 8 >>> VIENNA
Central-Europe is nothing without Vienna, once the political, economic, cultural and military power hub of the region, the capital of the former Austro-Hungarian Monarchy. We take you to the former imperial 1,441-room Rococo summer residence of the Habsburg dinasty. After few hours to be spent in the beautiful streets and squares of Vienna downtown we leave back home to our departure cities.
PRICE
Now only for 299 €!!!
Pretty low taking in consideration of participating in a week long road trip hitting 8 countries :) The offer is limited and can be revoked at any time. Hurry up if you'd like to make a bargain!
The regular price of the trip with this itinerary is 451€ !!!
The price includes:
– Roundtrip by coach
– Accommodation for 7 nights in shared rooms
– Breakfast in a part of the accommodations
– Parties in clubs
– Tour leading
– Guided sightseeings in the indicated cities and at the included, not optional sights
– Entrance fee to the not optional sights
– Pub crawl in Budapest
– Boat party
– Tram party
– Goulash soup with pálinka tasting
– Welcome shots
– Entrance to Széchenyi Thermal Bath
The price does not include:
– Local tourist tax (1 €/person/night)
– Travel and health insurance
– Anything not mentioned above
– Eventual visa fees. Visas – if necessary for you – must be applied for by the individual attendee. The organizer refuses any responsibility arising from visa issues, but must provide necessary documents about booking as latest as 30 days before the trip in order to complete visa application.
GETTING THERE
You can start and finish your trip Zürich, Munich, St. Gallen, Frankfurt, Würzburg or Nürnberg. You are advised to buy a flight ticket to one of these cities. You don't have to combine the same departure place with the same leaving place. Try to figure out which option is the best for you. If you don't wish to take the whole trip you can join also in any of the cities during the trip!
Exact meeting places for sightseeing and departure will be sent later by e-mail to all attendees or you will be informed by our guides on the coach.
If you need to get to the departure points by place, to find best flights we recommend:
www.edreams.com
www.whichairline.com/
SIGN-UP & PAY
You can register on the following link:
https://bigcetrip.eventbrite.com/
Pay simply a deposit of 99€ online by credit card or by bank transfer and pay the remaining 200€ at the trip departure by cash. If you don't have a credit card, just simply ask any of your friends to pay instead of you and you can give him/her the amount in cash.
If none of these options work and you'd like to pay by bank transfer, contact us via e-mail!
Don't hesitate! The number of seats are strictly limited ;)
BRING YOUR FRIENDS
AND PARTICIPATE FOR **FREE**!
If you have your own group of minimum 10 friends we give you an organizers' **FREE** spot!
Important! In this case all the payment have to be made by the same person.
If you think you can form a larger group than this, we can give you additional benefits.
Contact us: info@studenttripsnetwork.com
ALTERNATIVE DATES
AND ROUTES
If you are not comfortable with this date you can pick another from our event page.
If you are a group of friends of a certain number, the same trip or a different one can be made in other dates as well.
The price for individual dates depend on the number of people witihin your group and the itinerary chosen. Less people means higher price, but we can promote your trip to other people and if they like it and enough people sign-up, the same good price can be applicable!
Contact us at organizers@studenttripsnetwork.com for personalized offer.
The trip is organized by StudentTripsNetwork, a brand related to Szigorú Travel Community.
http://www.facebook.com/StudentTripsNetwork
Contact us: info@studenttripsnetwork.com