The Perseids (Sternschnuppen/meteor shower) – Darmstadt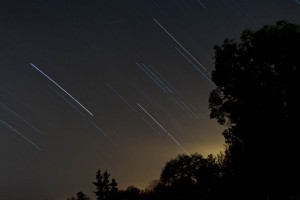 The Perseids are a prolific meteor shower associated with the comet Swift-Tuttle. The Perseids are so-called because the point from which they appear to come, called the radiant, lies in the constellation Perseus. The name derives in part from the word Perseides, a term found in Greek mythology referring to the sons of Perseus.
The shower is visible from mid-July each year, with the peak in activity being between August 9 and 14, depending on the particular location of the stream. During the peak, the rate of meteors reaches 60 or more per hour.
This year the rate of meteors reaches 60 or more per hour around 23:00 on 12.08.13.
In the night we will talk and watch the shooting stars together.
Informations about the meeting:
Where: In front of Ostbahnhof, Darmstadt (Bus K55, Bus 671, Bus 672)
Whan: At 22:00 on 12.08.2013
Cost: Free
Tipps: Please wear long pants and thick clothing or bring blanket, it can be 15°C. Please bring your own coffee or something to eat. We (Tutors) will also bring coffee and cakes.